Name: Karim Kinch CPT,  Founder of Harrow Personal trainer
Location: Harrow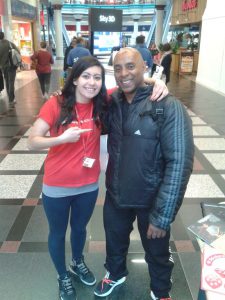 The leading Personal Trainer in Harrow; a leading body transformation and fat loss specialist, and nutritionist with over thirty years in the industry.
I am also a strength and conditioning coach specialising in Strength and conditioning for golfers.
I have worked with a variety of clients from Celebrities, top bodybuilders and figure competitors and golfers, to brides-to-be and ladies wanting to fit back into their skinny jeans or just look good in a bikini.
I am a firm believer that fitness should be fun and aim to make your workouts enjoyable while motivating you to step out of your comfort zone to reach your personal goals.
I can help you to:
Lose weight
Tone up
Improve your body shape
Gain more energy
Get stronger
Become a leaner, fitter, stronger you!
Qualifications
REPS Level 3 Certified Personal Trainer
Pnd (Precision Nutrition Diploma in Sports and exercise nutrition)
GFS (NASM Golf Fitness Specialist)
KRU (Muay Thai instructor under LeHuong Muay Thai)
Specialties 
Boxing
Padwork
Flexibility Training
Kettlebell
Martial Arts
Nutrition
Power Training
Bodybuilding
Golf Specific Fitness
Our small Personal training studio is based near Preston Road in Wembley. I am currently excepting clients in the Harrow, and Pinner areas with expansion planned to cover
With a variety of packages to choose from, you are sure to find the perfect solution for your needs. Look around the website and if you have any comments or questions, please feel free to contact me. 
My company is based on the belief that my customer's needs are of the utmost importance.
I am committed to meeting those needs.  As a result, a high percentage of my business is from repeat customers and referrals.
I would welcome the opportunity to earn your trust and deliver you the best service in the industry.